Australian architecture practice Conrad Gargett is leading the design of the refurbishment of a 1950s modernist hall that houses the United Nations in Ethiopia.
Built in 1961, Africa Hall in the Ethiopian capital of Addis Ababa is a complex of conference halls and administrative spaces that acts as the headquarters of the United Nations Economic Commission for Africa (UNECA). The building is one of two main UN centers in Africa.
Originally designed by Italian architect Arturo Mezzedimi, the hall was the site of the founding of the Organization of African Unity, the precursor to the modern day African Union. The hall has also played host to a number of the Union's assemblies.
Mezzedimi was prolific as an architect in Ethiopia and across the wider Horn of Africa. He won an international design competition for the Hall in 1959, and the building was completed 18 months later.
Mezzedimi, who had a long-running personal and professional relationship with then-Ethiopian emperor Haile Sellasie, also designed the similarly enormous Addis Ababa City Hall. The two monumental projects were commissioned by the emperor to "show people that it is possible to construct grand buildings here too [in Ethiopia], by erecting a couple of high-profile structures," Mezzedimi recalled the emperor telling him. "It is not their complexity or size that matter, but the maximum possible use of home-produced materials."
The United Nations General Assembly committed US$57 million (A$74.2 million) to the renovation of the modernist hall in 2016, in commemoration of UNECA's 50th anniversary. Brisbane-based Conrad Gargett, which operates a studio in Addis Ababa, was appointed to provide architecture and engineering services for the first two stages of the project.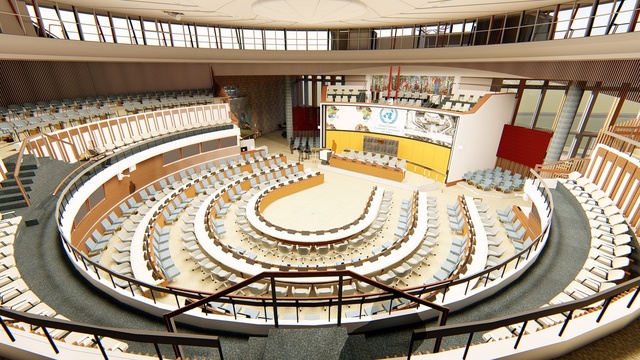 "Since 2013 we have worked on the conservation, restoration and activation of Africa Hall," said David Gole, principal of Conrad Gargett. "The project will deliver state-of-the-art conference spaces and a permanent exhibition space to host diplomatic meetings, cultural performances and art exhibitions from across Africa, as well as a visitor's centre to enable for the first time the public to access the building."
Senior associate Luke Pendergast, who heads the practice's Ethiopian studio, said that the upgrades to the site would be "sympathetic" to the original modernist design. He added that the practice's work is being guided by the condition of the largely concrete structure.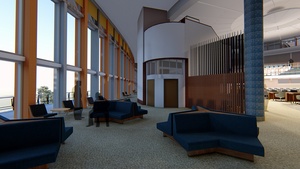 "Inherent with concrete structures over 50 years of age, the fabric begins to deteriorate and requires remediation," he said. "Invasive structural works are required to ensure the building can be safely occupied, resists seismic activity and provides equitable access to all."
Heritage architects and engineers from the practice will use new digital technology to "efficiently produce accurate documentation to support the restoration of Africa Hall."
Lawrence Toaldo, Africa Hall managing director, said the practice was pleased to be involved with the restoration of a building that occupies a unique place in the continent's history.
"Africa Hall is an iconic place-making landmark and we recognize its strong contribution to Pan-African history and the identity and role of the UNECA in the post-colonial development and transformation of Africa."
The transformed Africa Hall is scheduled to be delivered in 2021
Source architecturue