Ethiopia is one of Africa's most beautiful countries and its landscapes are epic in both scale and beauty. Here are some of Ethiopia's endemic birds and the country's landscape, that can be found nowhere else but Ethiopia. The Danakil Depression, where there are lush highlands and stirring deserts, vertiginous canyons and sweeping savanna, vast lakes, and high plateaus, and the lowest place on the African continent, (the Simien and Bale mountains, which are more than 9800ft above sea level). If you look hard enough, you'll also find landmarks of great significance, from the source of the Blue Nile to the mesmerizingly desolate Danakil Depression, peppered with an astonishing Africa's active volcanoes.
Ethiopian Birds
Ethiopia is gradually becoming known as one of Africa's top birding destinations and the numbers really speak for themselves – there are no less than 835 bird species found in Ethiopia, with an incredible 23 that are unique to the country. Serious birders may want a guide to help them spot and identify rare species, but even to travelers with a completely untrained eye, catching a glimpse of electric-bright feathers or hearing huge wings beating overhead during a forest walk is an undeniable thrill. Keep your eyes peeled for the red-cheeked cordon bleu, Ethiopian guinea fowl, and the endemic blue-winged goose. It's your ears that may twig you to the arrival of a bearded vulture soaring overhead in Simien Mountains National Park – their wings are so enormous that the wind almost whistles as it flows over them. Lake Awasa, in the Main Ethiopian Rift south of Addis Ababa, is home to some magnificent, prehistoric-looking marabou storks, while Lake Shala, to the north of Awasa, is the place to go to see flamingos.
Male-mostly green; red forehead and lores; black flight feathers and underwing coverts; green lower back to upper tail coverts; green tail, the lateral feathers yellow at the base and banded black near tip. Bill coral red. Feathered eye-ring red. Eye dark brown. Female-green head; green underwing coverts, sometimes with black markings. Colour Juvenile: As in adult female, but underwing coverts black in male. Bill dusky yellow with black at the base.
Afar: Extrem Landascape
The area around the DALLOL volcano in Ethiopia is like nowhere else on Earth. Toxic chlorine and sulfur vapors clog the air and giant "mushrooms" made of iron-rich salt cover the landscape. The groundwater is near boiling when it bubbles up through the Earth's crust, creating springs you absolutely would not want to bathe in.
Extreme environments—whether an incredibly dry desert, an acidic river system, or an extremely hot hydrothermal vent—host some of the hardiest life on Earth. Organisms that can survive in these places are called extremophiles, and they're pretty much the closest you can get to alien life without leaving our planet. So instead of packing their bags for a trip to Mars, scientists on the hunt for alien life can head to locations on Earth that resemble the Red Planet to figure out what they should be looking for when they finally get their hands on some Mars rock.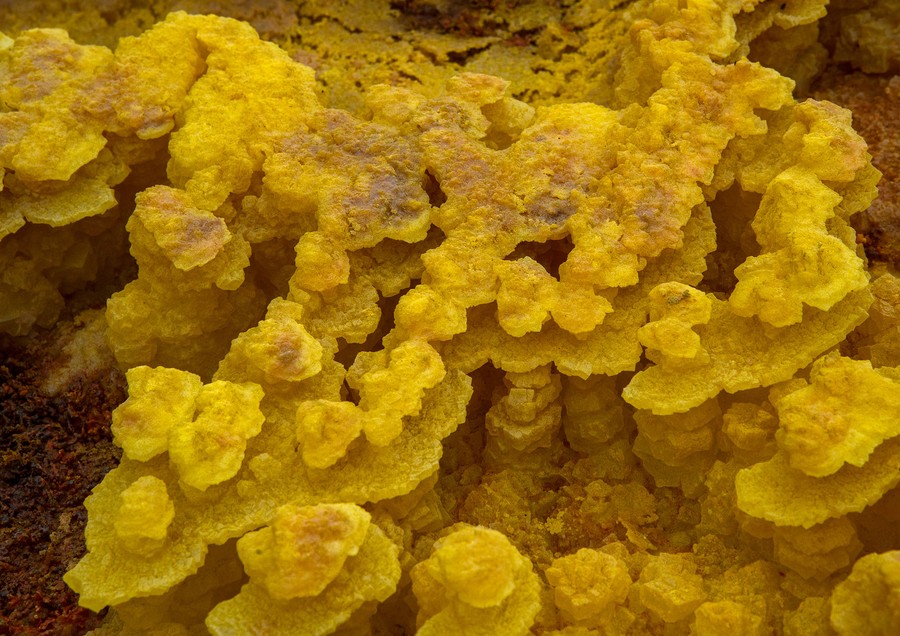 Colorful potassium salt crust formed by hot springs in the Danakil Depression, near Dallol, Ethiopia.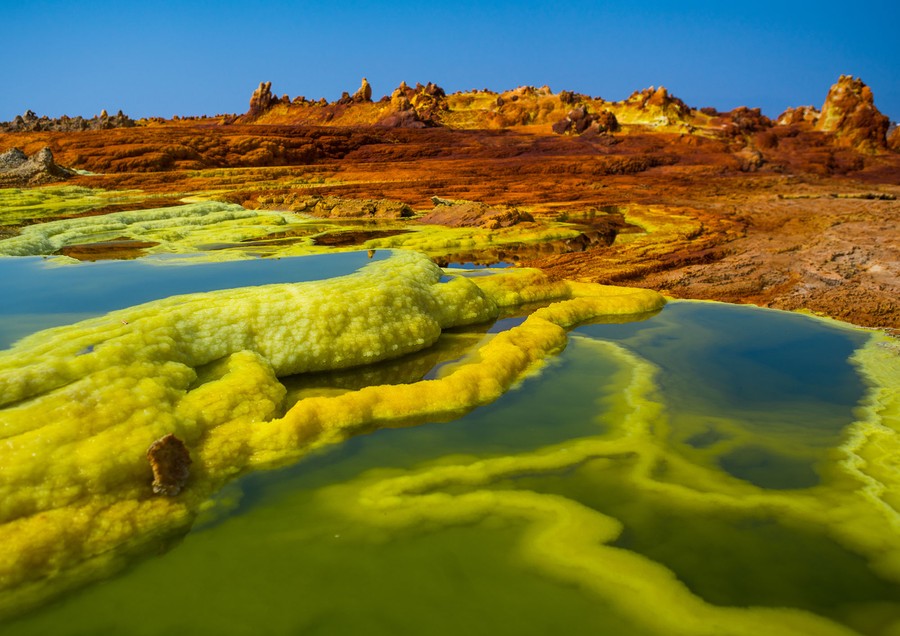 Studying polyextremophiles in Dallol could also help us think about what life might look like in dramatically different but potentially inhabited worlds, such as Saturn's moon Enceladus or Jupiter's moon Europa. "The more work we do to understand life here, and the different ways that life could run, it forces us to really expand our view of what habitable is," says Kennda Lynch, an astrobiologist at the Lunar and Planetary Institute in Houston, Texas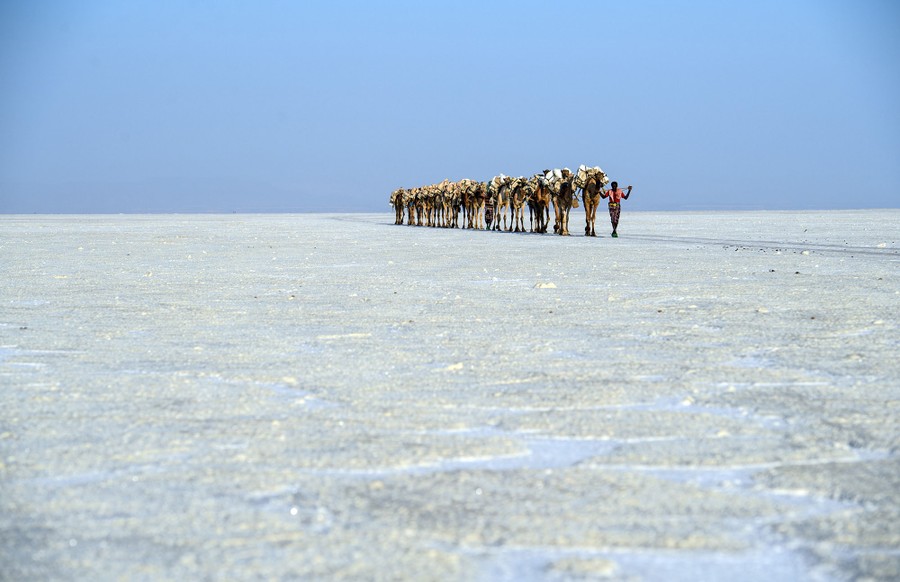 A camel caravan carrying salt mined by hand is led across a salt plain in the Danakil Depression near Dallol, Ethiopia. The depression lies 100 meters below sea level and is one of the hottest and most inhospitable places on Earth.
Salt canyons and pillars made of layers of halite and gypsum in the Danakil Depression, near Dallol, Ethiopia
---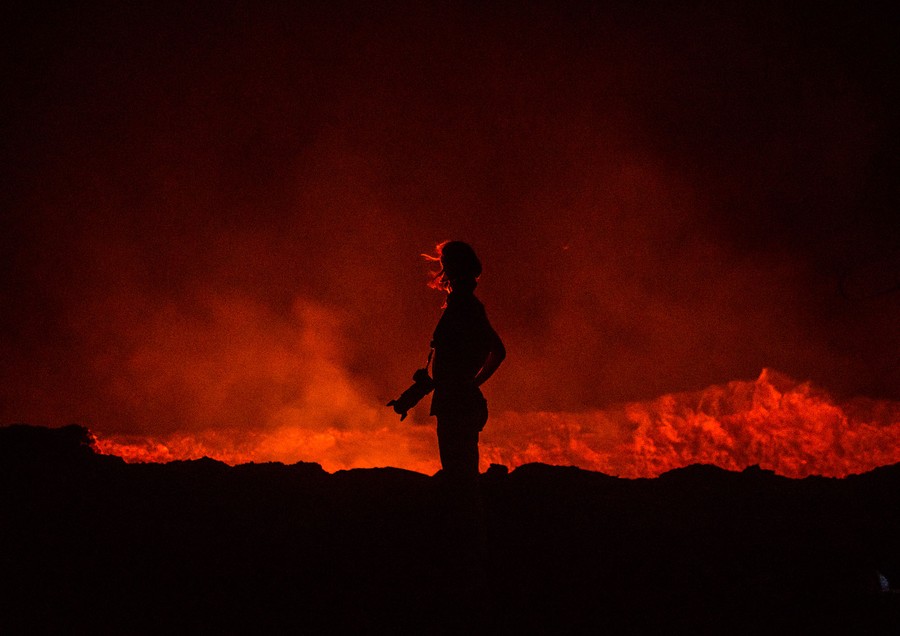 A tourist stands in front of a lava lake in the crater of Erta Ale volcano, in Ethiopia's Afar region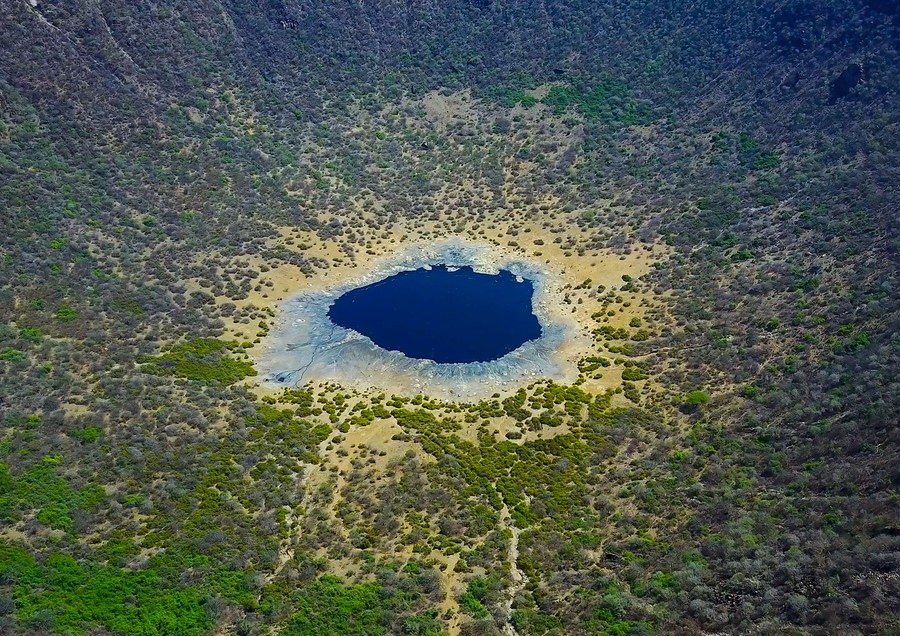 An aerial view of the El Sod volcanic crater lake where Borana tribesmen dive to collect salt, in Ethiopia's Oromia Region.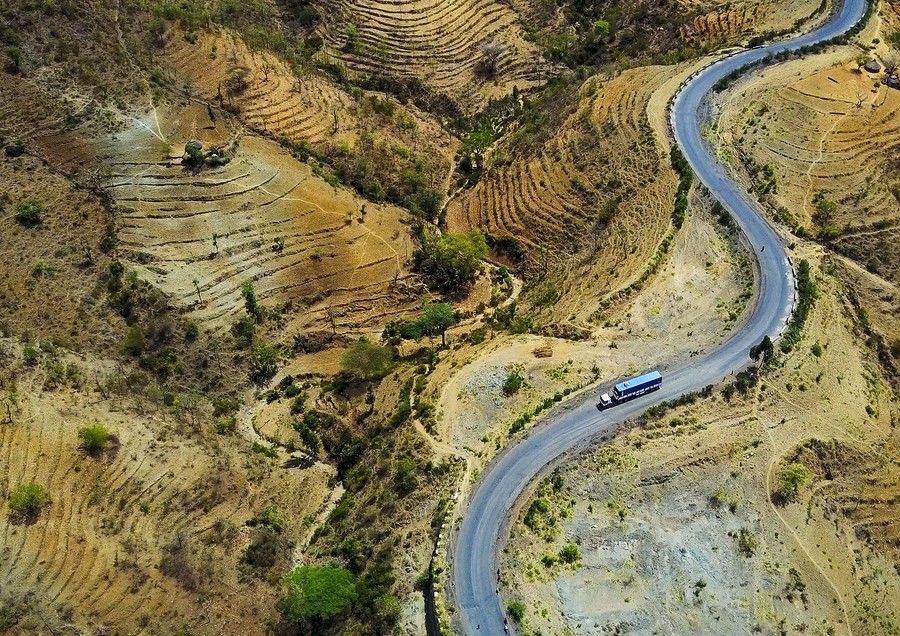 Aerial view of a truck passing in the Konso hills and terraces in Ethiopia's Omo Valley.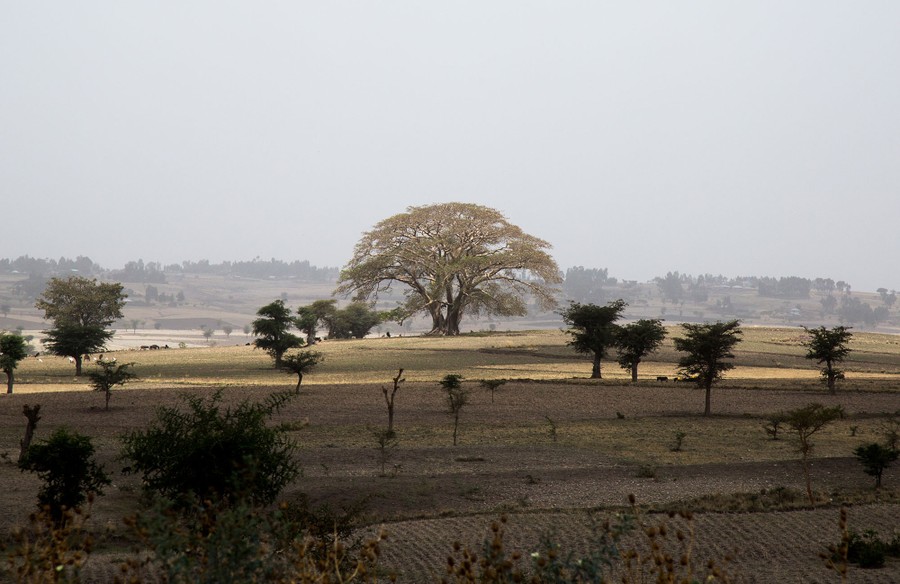 A large tree stands above a plain near Alaba Kuito, Ethiopia.
Bale Mountains
Located 400km southeast of Addis Ababa, Bale Mountains National Park contains a spectacularly diverse landscape. The high altitude, afro-montane Sanetti Plateau rises to over 4,000m and includes the highest peak in the southern Ethiopia highlands. This undulating plateau is marked by numerous glacial lakes and swamps and surrounded by higher volcanic ridges and peaks. The southern slopes are covered by the lush and largely unexplored Harenna Forest.
It's a long drive from Addis Ababa to Bale Mountains National Park. Long, but absolutely glorious – past donkeys, sunny fields, hills, plateaus, red dirt paths, and traditional circular houses painted in upbeat shades of purple, green and blue. It's the kind of drive that lulls you into a trance as the sky slowly changes color.
Travelling to Africa for wildlife usually means one thing and one thing alone: Big Five spotting in one of the continent's well-loved safari parks. But for anyone that wants to get further off the beaten track, Ethiopia is incredibly rewarding. Its unusual geography, particularly the more isolated regions such as those within the Bale Mountains National Park, means there is a high number of endemic species and the very real possibility of glimpsing species that only a handful of people have ever seen. Here are just some of the creatures you could encounter while you're there.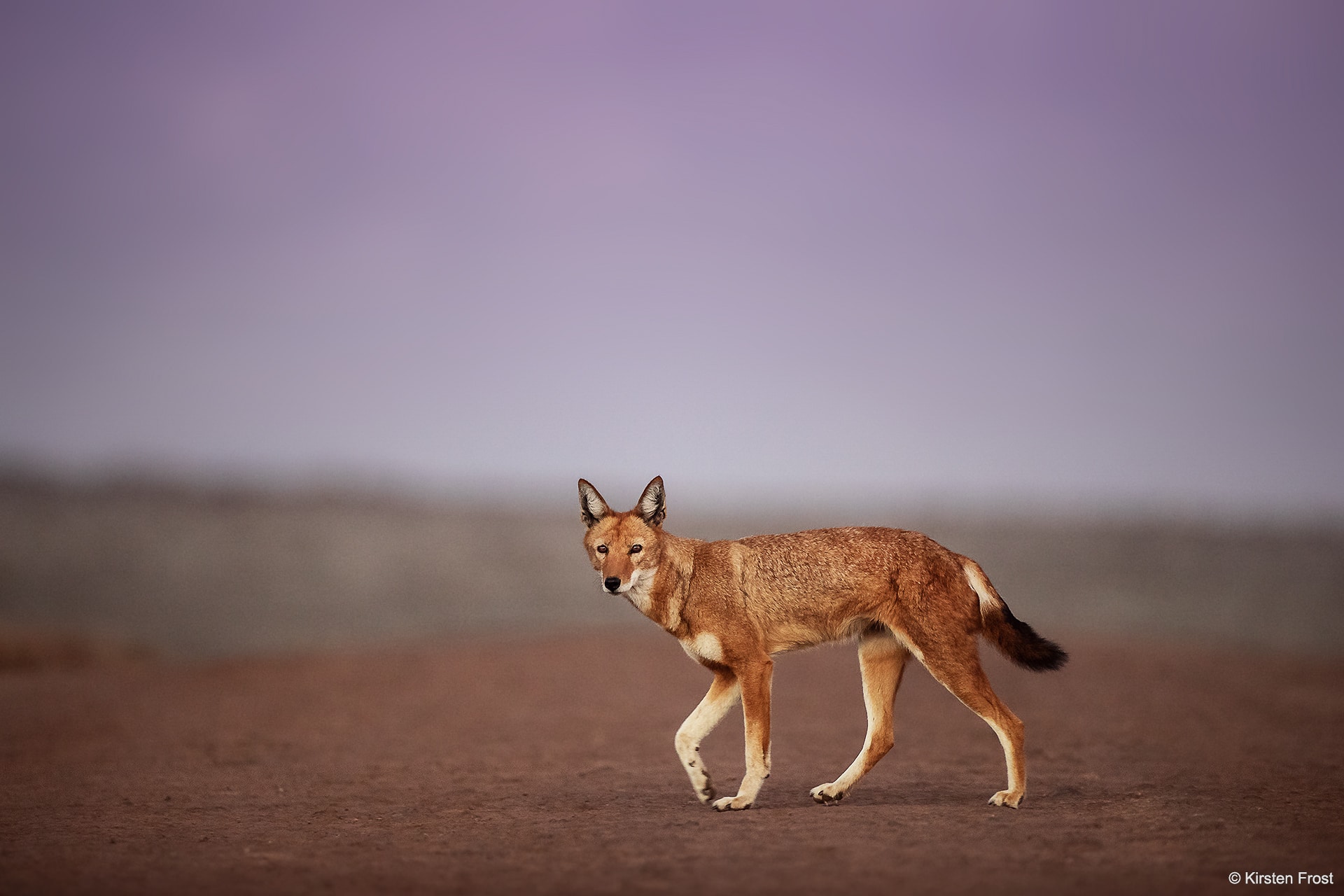 An interesting place that is worth a visit to view and photograph endemic antelope species is the national park headquarters in Dinsho. Warthog, Mountain Nyala, Menelik's Bushbuck, and Bohor Reedbuck are likely to be seen within the area as are many endemic birds species.
Simien Mountains
The Simien Mountains National Park in Northern Ethiopia is an exotic setting with unique wildlife and breath-taking views on a landscape shaped by nature and traditional agriculture. The natural beauties of this region have always filled visitors from Ethiopia and abroad with awe. Gentle highland ridges at altitudes above 3600 meters above sea level (m asl), covered with grasses, isolated trees (Erica &bored), and the bizarre Giant Lobelia (Lobelia rhynchopetalum) are found on the high plateau that ends abruptly at 1000- to 2000-m deep escarpments.
Gelada monkeys
Gelada monkeys, which only live in the Simien Mountains, are a completely intriguing species. They're the only grass-grazing monkeys left, and of all primates, have one of the most varied ranges of sounds, from high-pitched cries to gurgling that sounds almost like human speech. Elsewhere in Ethiopia, you'll be able to spot black-and-white colobus monkeys with their snowy mantles, and Bale monkeys, who also have white beards.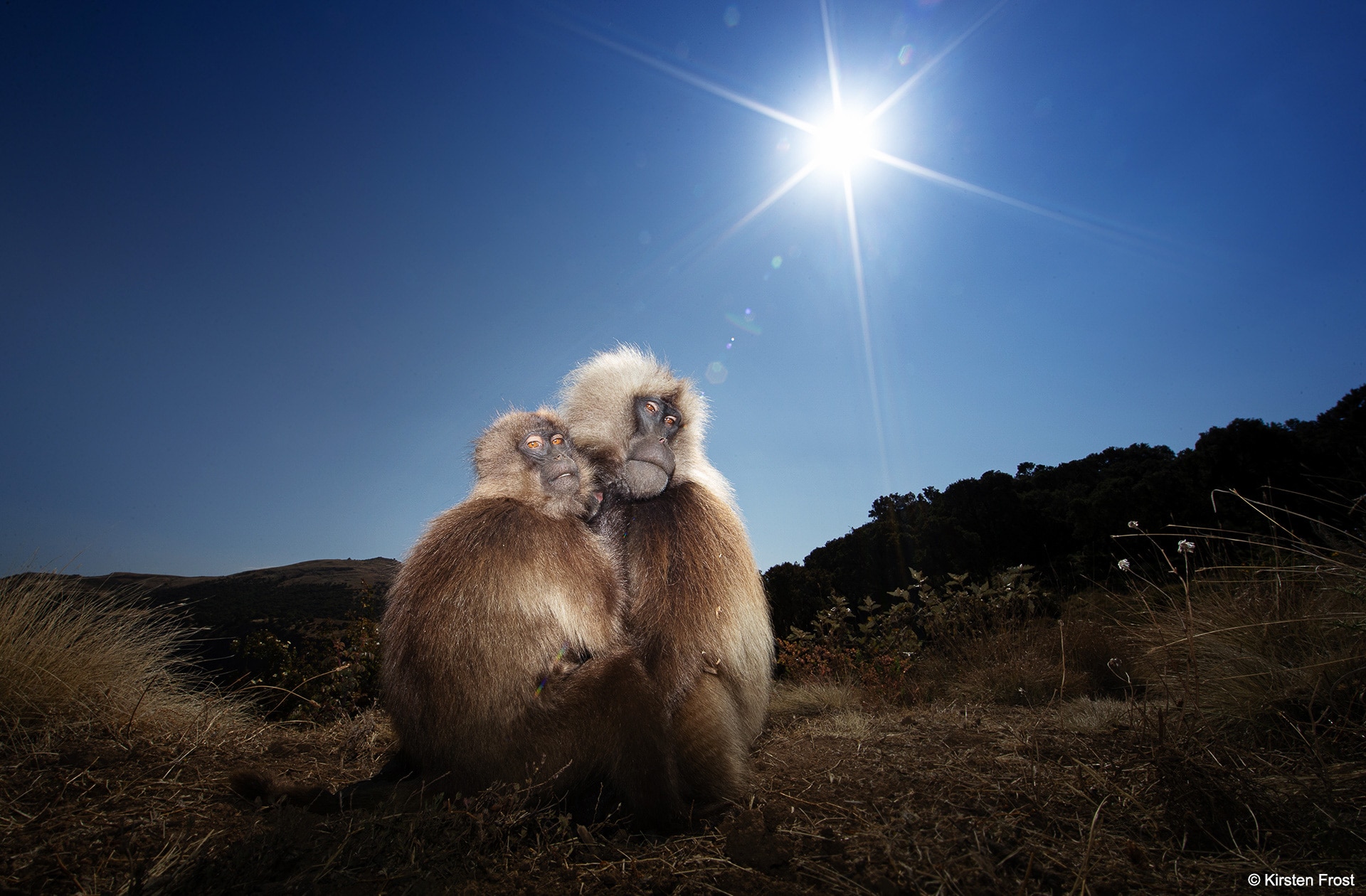 Here presented with some of the most dramatic scenery in Africa—ancient volcanic plugs that have eroded over the eons into fantastic crags, pinnacles and flat-topped mountains—"the Chess Pieces of God", as one writer aptly described them.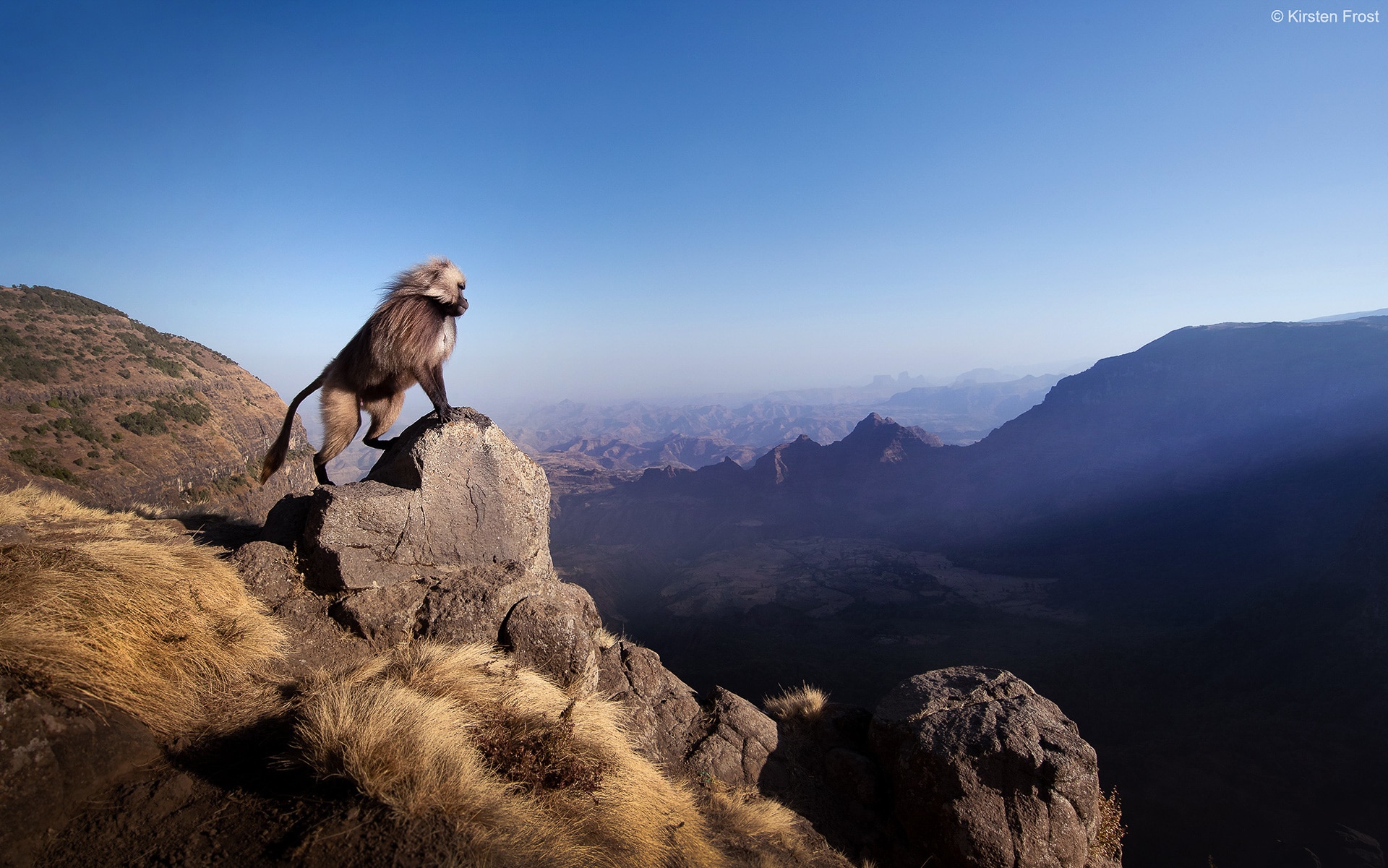 Troops of Geladas up to four hundred strong thrive here, and we spent quality time observing and photographing these unique and fascinating primates. With long woolly capes, tasseled tails, bare red chests and an arrogant swagger, these remaining relics of once widespread grass-eating baboons are now restricted to the highlands of Ethiopia.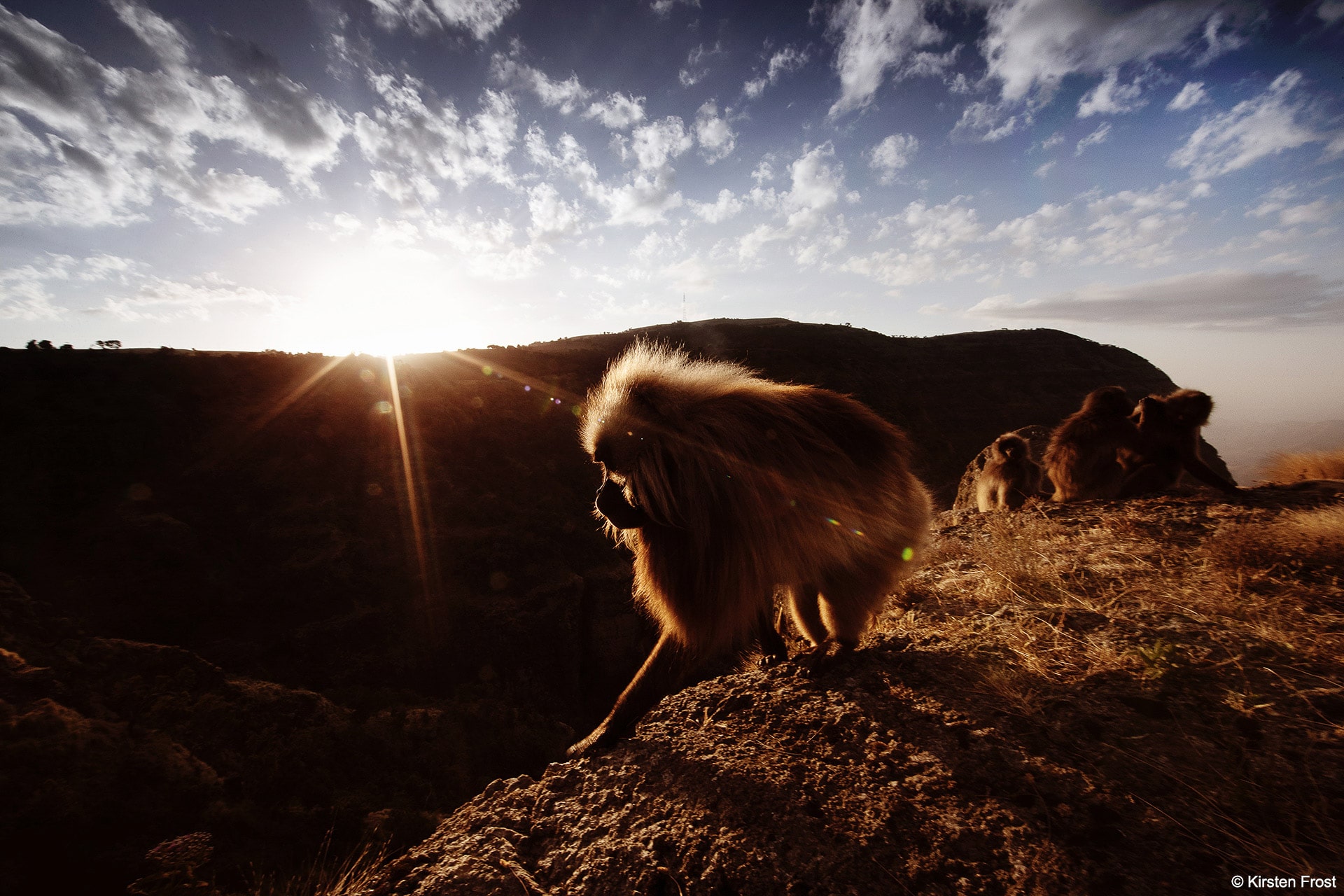 Walia ibex
Like the gelada, this endangered species is found in the highlands of northern Ethiopia, with the highest concentration of numbers living in the Simien Mountains. The males have distinctive black beards and sport ridged horns that arch backward and reach lengths of over a meter. The latter is used in impressive head-on-head battles of dominance with other males; the sharp cracks of clashing of horns often reverberates through the thin mountain air. The confrontations can take place on impossibly steep slopes and the results can mean life or death.
Storm clouds gather over a valley in Ethiopia's Amhara region