The African bush and world-renowned religious sites are meant to be two separate holiday options. Stories about examining ancient Christian scrolls and searching for the tell-tale bubbles of an irate hippo coming to flip your boat aren't supposed to share a paragraph.
But the residents of Lake Tana in northern Ethiopia would beg to differ. This aquamarine, sun-baked lake sits on the foothills of the Simien Mountains and is where Sub-Saharan Africa and medieval churches meet. It has a shoreline littered with paint-box-coloured Orthodox Christian churches and thousands of equally jazzy flamingos. It attracts hyenas, leopards and fish eagles, but also hundreds of white-robed pilgrims who pour in from around the country.
I arrived in Ethiopia as an unlikely Indiana Jones figure. My brother and I were tracing the watery route of the Ark of the Covenant, which was allegedly brought to Ethiopia in 400 BC and then proceeded to take a tour of the lakes for the next 800 years.
After a short flight from Addis Ababa, we set sail on a rickety boat on a hot March morning, leaving from the shorefront city of Bahir Dar and heading for the rocky outcrop of Tana Kirkos. This is where, according to local lore, the Ark was housed for half a century.
An island in high tide, Tana Kirkos shimmers from a distance thanks to the silvery bulge of its outsized church dome, which glints above the canopy of leaves. A priest swathed in orange robes met us on the stony beach and led us through a secret pathway towards this storied site.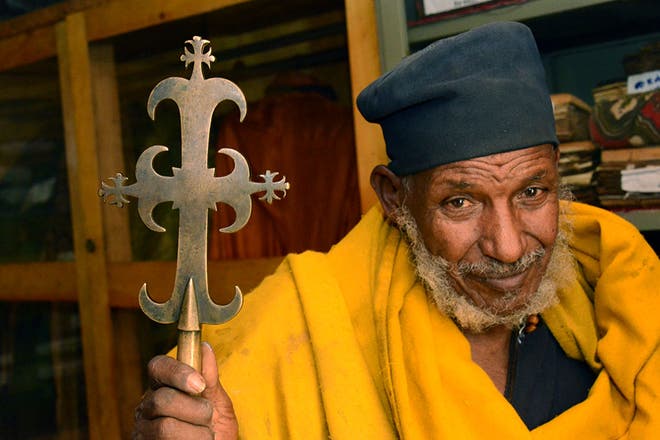 That's when I caught my first glimpse of a look I would come to know well over the next two weeks. One that translates roughly as, "Sorry lady, but you're not going anywhere near that sacred place." It was usually accompanied by a hand gesture towards an upturned stone where I should sit while the men explore.
Annoying as this was – particularly as the only woman in our group of five – I enjoyed my solitary hour watching eagles and kestrels soar above me, while brightly dressed little girls protected their chickens from them.
When the men returned, it was difficult to ignore their rapt expressions of awe. It was impressive, apparently – a museum filled with ancient tomes dedicated to the Ark, creating an unlikely centre of religious learning in the middle of a dusty and otherwise forgotten piece of land. I mainly felt sorry for the local women living on this three-mile stretch, who were banned from visiting the most interesting half of it.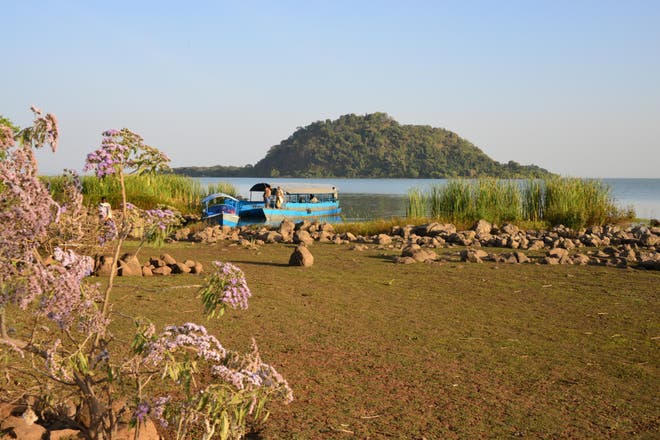 From Kirkos we sailed to Dek Island, where we were camping for two nights. This tear-drop shaped island in the heart of the lake has been inhabited by humans for thousands of years, but remains entirely off the tourist trail.
Visitors are missing a trick, as Dek is a paradise of grassy knolls, undulating hills and clustered palm groves. Warm in the day and cool at night thanks to its equatorial latitude and high altitudes, these are ideal conditions for human life – helping to explain why Lucy's remains (the famous 3.2 million-year-old skeleton) were found just nearby.
Within half an hour of setting up camp, we had become a local attraction to her descendants, with curious children scampering up first, followed by two village elders bearing sticky mangoes.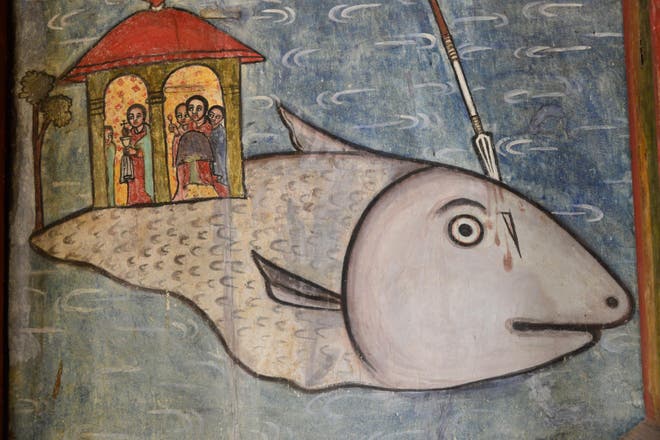 We ate rice, fish and fruit with our hands and listened to screeching monkeys saluting the sunset, before crawling into our tiny canvas tent. In the silence and pitch black, we slept deeply until we were woken at 4am by the haunting pre-dawn Christian calls to prayer.
Later that day we went to the Narga Selassie church on the south side of the island, where the Ark is also rumoured to have made a stop. Proving that unexpectedly beautiful places are often more astounding than the world-famous sites you expect to be gobsmacked by, Narga Selassie out-glamoured most cathedrals I've visited in Europe, and even some of the churches in the admittedly extraordinary Lalibela nearby.
Watched over by a skinny guard clutching a child-sized machine gun and a serene white-robed priest, the building is surrounded by ruins – and the church itself is rather unexceptional from the outside. But stepping through the engraved wooden doors, we discovered an intricately painted world in which recognisable murals of the Madonna and Child were joined by a wandering lion or dry Acacia tree – taking a familiar brand of Christianity and making it intoxicatingly African.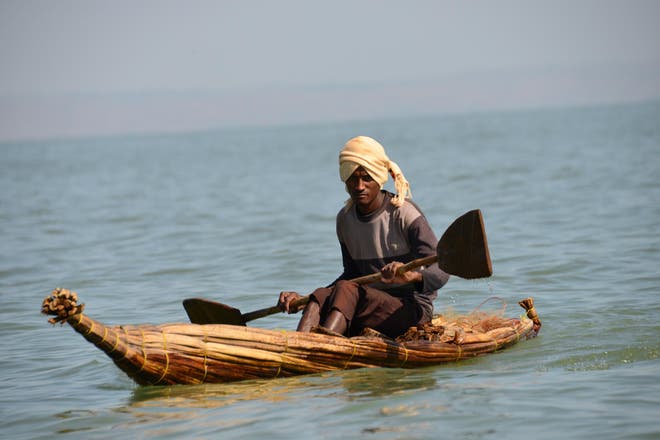 But while Lake Tana's role in Ethiopian Christian history is undisputed,  there are now indications that the Ark was also taken south to the hotter, steamier lakes near Addis Ababa when war enveloped northern Ethiopia.
The first of the three Great Rift Valley lakes of Ethiopia, Ziway is wilder and lusher than its northern counterpart, packed with screeching birds and bordered by acacia trees. My parents are South African, and Ziway offered up a version of the continent that felt more recognisable – one where Marabou storks strut about in all their hideous glory, birds of paradise fill the air and heat shimmers off the whisky-coloured water.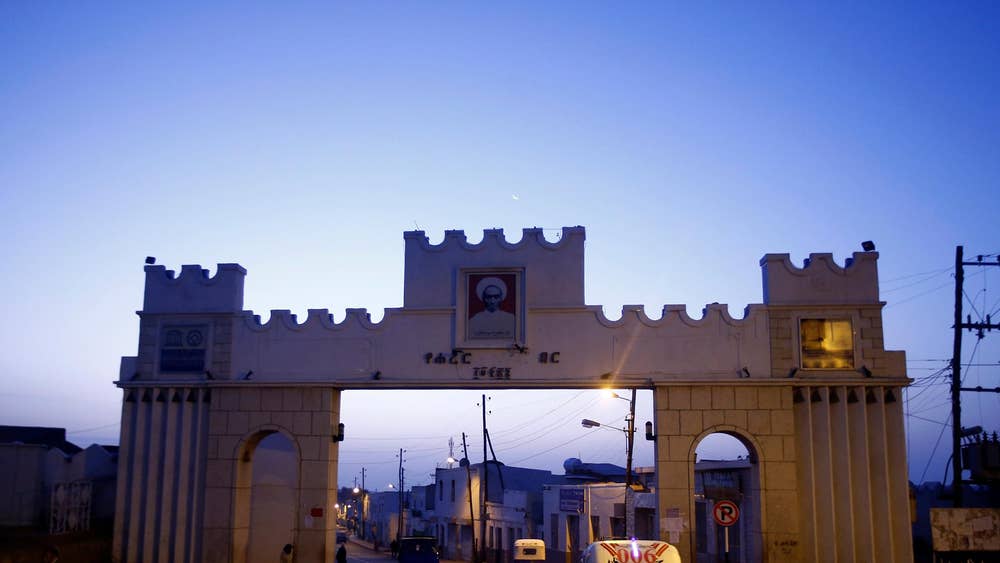 Hnce again we set sail, this time to an island called Tulu Gudo where the Ark was supposedly buried in 400 AD. Arriving at the hilltop church, we realised we had unwittingly stumbled across a funeral march and sat quietly by a sea of ululating mourners. Two priests later took us through the back entrance of the church and showed off the village's murals and scrolls, while the crowd continued to chant and lament around the incense-heavy alter.
These Ethiopian lakeside communities vibrate with spiritual belief – this is a Christianity that is interwoven into every aspect of life. And while we began our trip mimicking the route of the Ark of the Covenant, we quickly realised that the real insight didn't lie in the ancient history books or the dusty museums, but in the glimpses we got into a living world that remains largely untouched by the last 100 years of modernisation.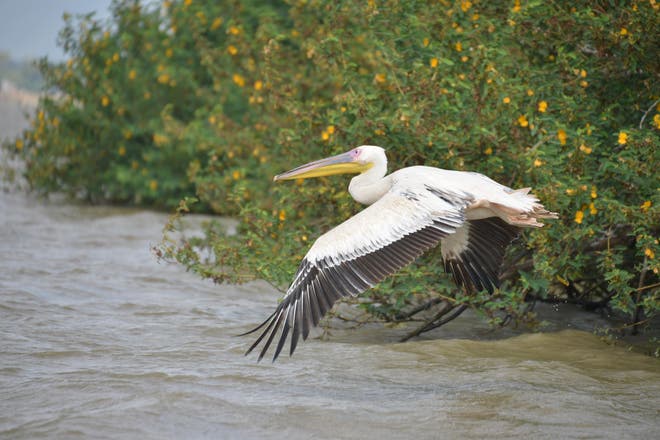 Months later, I still hark back to two nights in particular, when I lay in a flimsy tent on Dek Island, stranded in the heart of Ethiopia's largest lake and listening to calls to prayer in the inky black. It will remain one of the more haunting travel experiences of my life – and one that has definitely soothed the pain of not quite finding the Ark.
Source independent